Nitric oxide (NO) is widely distributed throughout the body and its effects are generally benign and important to cell physiology. In the early 1990s, it became well known that NO production in vascular endothelium was linked to inflammation. Increased NO production occurred in response to excessive levels of certain cytokines in the presence of inflammation. Building upon this, Lars Gustafsson and Kjell Alving, working independently at the prestigious Karolinska Institute in Stockholm, Sweden, discovered the presence of NO in exhaled breath and completed studies that determined that the level of NO in exhaled air could be used as a sensitive marker for inflammation in the airways. Today we can use fractional exhaled NO (FeNO) clinically with a reliable device for point-of-care testing built as a result of the research performed by Gustafsson and Alving.1
Clinical Need
Before FeNO testing, clinicians had very limited tools (ie, sputum, biopsy, or lavage) for directly measuring airway inflammation. Today, traditional assessment of asthma severity relies on spirometry, which measures lung function using the volume and flow of inhaled and expired air but does not necessarily correlate with underlying inflammation. Indeed, spirometry results frequently remain normal in patients with asthma. Bronchial alveolar lavage and biopsy can identify inflammation, but they are invasive and time-consuming and require specialized facilities. Thus, treatment is usually driven by symptoms, which can be hard to evaluate, especially in children. FeNO testing illuminates both asthma diagnosis and therapy by adding an objective measure of inflammation to the clinical assessment.
Nitric Oxide and Inflammation
Nitric oxide, present in air pollution and cigarette smoke, also acts as an endogenous regulatory molecule throughout the body, mediating peripheral blood flow, platelet function, immune reactions, and neurotransmission. Direct measurement of NO proves difficult, as it is highly reactive in body tissues. However, in its gas phase, NO becomes stable at low concentrations and readily disperses in tissues. In the lungs, NO diffuses into the bronchial lumen and Gustafsson was the first to detect its presence in exhaled breath.2 Spurred by this finding, Alving began to investigate the possibility that exhaled NO was associated with inflammatory airway disease. Employing a prototype device, he established that allergy sufferers had significantly higher levels of exhaled NO than their allergy-free colleagues.3 Numerous clinical studies have since determined that elevated FeNO occurs only when inflammation is present.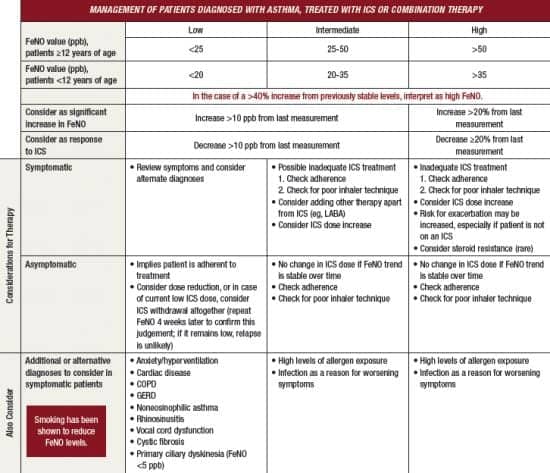 Table 1.
Clinical Guide to Interpretation of FeNO Values1-3
The chronic inflammation associated with asthma begins with an acute response to airborne allergens or irritants. The immediate influx of eosinophils, mast cells, and lymphocytes should be short-lived. However, continued exposure often leads to sensitization and chronic eosinophilic inflammation, a classic hallmark of allergic bronchial asthma. Clinical experience demonstrates that FeNO levels correlate well with eosinophilic, Th2-mediated airway inflammation.4 Even in asymptomatic patients, elevated NO levels can be linked to atopy and airway hyperresponsiveness. Thus, FeNO measurement can be used to indicate the presence of allergic inflammation in asthma without resorting to invasive and expensive procedures.
Clinical Practice Guideline for FeNO Testing
Last year, the American Thoracic Society (ATS) issued a clinical practice guideline for FeNO testing,5 which has since been endorsed jointly by the American Academy of Allergy, Asthma and Immunology and the American College of Allergy, Asthma & Immunology. The guideline notes a number of advantages for patient care connected with FeNO testing, including its utility in diagnosis, predicting response to inhaled corticosteroids (ICS), managing anti-inflammatory medication adjustments, and monitoring adherence with treatment (Table 1). In addition, FeNO testing is noninvasive, easy to administer in an office setting, fast, and reproducible. By providing real-time information about airway inflammation, FeNO "adds a new dimension to the traditional clinical tools (history, physical exam, and lung function tests)."5
Several typical cases illustrate how FeNO results can influence clinical practice. Consider the 31-year-old patient who has no current diagnosis of asthma. He suffers from chronic rhinitis and seasonal allergies, for which he uses antihistamines, but is now experiencing breathing problems while jogging. His physical examination and spirometry results are normal. FeNO testing shows NO levels of 75 ppb. This high FeNO reading signals ongoing airway inflammation, but it also indicates that he is highly likely to respond to corticosteroids (Table 2). He is prescribed 500 µg of ICS twice daily, and 1 month later his FeNO value has fallen to 30 ppb and his symptoms have resolved.
Higher FeNO levels are typically associated with atopy and with a positive response to ICS. FeNO testing has proven more consistent in predicting steroid responsiveness than spirometry, bronchodilator response, peak flow variation, or airway hyperresponsiveness to methacholine.5 Predicting steroid responsiveness allows the clinician to skip empiric steroid trials or avoid unnecessary long-term treatment. Had this patient's result been <25 ppb, possible alternative diagnoses could be explored, including anxiety/hyperventilation, cardiac disease, gastroesophageal reflux disease, or noneosinophilic asthma.
For a symptomatic patient with asthma who is being treated with ICS, FeNO testing facilitates monitoring of therapy. A decrease of >10 ppb for patients with low or intermediate FeNO readings confirms the response to ICS, as does a decrease of >20% for patients with a high FeNO reading (Table 2). A 7-year-old girl with atopic asthma was prescribed a twice-daily, 200 µg dose of budesonide, yet she remains symptomatic. Her physical examination and lung function testing are normal, but the FeNO level is 58 ppb. This strongly suggests ongoing inflammation, which should respond to ICS. Her physician reviews correct inhalation technique and questions her parent about allergen exposure. The ICS dose is increased to 800 µg twice daily for 1 week, and then 400 µg twice daily. The family also is advised to use special allergy bed covers. A month later, her FeNO value is 24 ppb, indicating that her asthma is now under control.
A significant increase in FeNO (>10 ppb for patients with low/intermediate readings, >20% for patients with high readings) should prompt a review of treatment. Poor inhaler technique or adherence could be compromising ICS treatment. The clinician also may consider increasing the ICS dose or adding a long-acting beta agonist. For treated and still symptomatic patients with continuing high FeNO levels, the risk of exacerbation rises, especially if a patient is not already taking ICS.
The asymptomatic treated patient with intermediate/high levels requires no change in ICS dose if the FeNO trend is stable over time. Regular follow-up visits should continue, including checks for adherence and poor inhaler technique. Asymptomatic patients with low FeNO levels may be eligible for ICS dose reduction or withdrawal. A 15-year-old boy who has mild asthma has been taking low-dose ICS for several years. He has had no symptoms for more than 6 months, normal physical examination and spirometry, and a FeNO level of 15 ppb. In light of the fact that he currently has no eosinophilic inflammation, the physician recommends discontinuing the ICS, but returning immediately should symptoms occur. They schedule a follow-up appointment 2 months later. At that time, he remains asymptomatic, the physical examination is normal, and the FeNO level is 17 ppb. This small and insignificant increase and lack of relapse assure the physician that this patient can safely discontinue his ICS, although he is told to call should symptoms recur and an appointment is scheduled for 6 months later.
In some patients, symptoms persist despite appropriate ICS therapy, and FeNO levels stay elevated. In such cases, infection and exposure to large amounts of allergens should be ruled out as reasons for worsening symptoms.
Cut Points for FeNO
The choice to categorize FeNO measurements as low, intermediate, and high, with differing cut points for children and adults, was based on numerous population studies.5 Investigators found some overlap between readings for "normal" people and those with asthma. Therefore, the ATS committee decided to publish clinically meaningful cut points rather than reference values for interpreting FeNO levels. The most crucial consideration is whether the patient has current respiratory symptoms or an existing diagnosis of airway disease. In that context, the cut points listed in the low, intermediate, and high classifications of Table 2 can be used for interpretation of FeNO results. Low FeNO (<25 ppb in adults, <20 ppb in children) indicates that eosinophilic inflammation and responsiveness to corticosteroids are less likely. Conversely, high FeNO (>50 ppb in adults, >35 ppb in children) signifies that eosinophilic inflammation and, in symptomatic patients, response to corticosteroids are likely. Cautious interpretation of intermediate FeNO levels (25 ppb to 50 ppb in adults, 20 ppb to 35 ppb in children) depends on whether the symptomatic patient presents for an initial diagnosis or is being treated and monitored over time.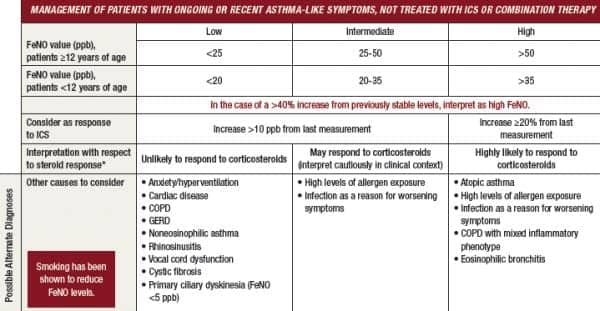 Table 2.
Clinical Guide to Interpretation of FeNO Values1-3
*Interpretations of levels based on patient having symptoms (cough and/or wheeze and/or shortness of breath) present during the past 6+ weeks.
Regularly repeated measurements of FeNO can be invaluable in spotting trends, because patients serve as their own controls. Still, within-subject variations abound, and FeNO readings must always be interpreted in the context of the patient's symptoms and current clinical presentation. As with blood pressure, the predictive value of a single measurement lacks the sensitivity to guide therapeutic decisions. That said, a relatively rapid change in FeNO in response to ICS, occurring in a dose-dependent manner, underscores the test's value in monitoring both adherence and therapy. The ATS guideline recommends aiming for a "personal best" rather than "normal" FeNO values.
Achieving Better Asthma Control
FeNO testing furnishes objective information that directly relates to asthma diagnosis and control. For the first time, medications can be targeted to patients who are most likely to respond. In addition, sequential monitoring can track the dynamic changes in airway inflammation, permitting proactive adjustments to therapy. This may be particularly advantageous in treating patients whose respiratory symptoms have multiple contributing factors.
For patients and clinicians alike, achieving better asthma control carries many benefits. In a study that compared patients with controlled versus uncontrolled asthma, the latter had significantly more lost work days, doctor visits, nights of hospitalization, emergency department visits, and mean drug costs over a 2-year period.6 The mean total cost for uncontrolled asthma was almost double that for controlled asthma.
In Europe, where FeNO testing has been available since 2003, several studies showed that the cost of continuous inflammation monitoring outweighed the cost of testing. In Germany, regular monitoring of FeNO in asthma patients using ICS resulted in per-patient annual savings of €30 for mild asthma and €160 for more severe disease.7 In the United Kingdom, routine FeNO measurement in patients using a cortisone inhaler generated per-patient annual savings of €341 for mild and moderate cases, and €554 for more severe cases.8 In the United States, reimbursement for FeNO testing is available nationwide through Medicare and in 36 states through Medicaid. Economic studies have not been published in the United States yet, but similar savings can be expected due to more accurate diagnosis, optimized use of anti-inflammatory medications, with discontinuation if warranted, and fewer emergency department visits and hospitalizations.
A Glimpse of the Future
Clinical applications of FeNO testing may eventually expand to other respiratory conditions, such as chronic obstructive pulmonary disease (COPD). For example, FeNO results may be helpful in predicting steroid responsiveness in patients with COPD who also have eosinophilia. Researchers also are studying the utility of measuring nasal NO for the diagnosis and monitoring of cystic fibrosis, allergic rhinitis, sinusitis, and nasal polyposis. Additional evidence will be necessary before clinical observations can be validated and guidelines written.
Conclusions
The ATS clinical practice guideline for FeNO testing upholds its value in identifying eosinophilic inflammation, predicting responsiveness to ICS medications and guiding medication changes, monitoring adherence, and assessing the contribution of airway inflammation to poor asthma control. Point-of-care FeNO testing is easy and fast, and adds a reliable and objective measure to the clinical evaluation of airway inflammation. It represents a paradigm shift in the way asthma is managed.
---
Kathy Rickard, MD, is chief medical officer, Aerocrine Inc, Morrisville, NC. For further information, contact [email protected].
References
History of measuring NO. www.aerocrine.com. Accessed July 27, 2012.
Gustafsson LE, Leone AM, Persson MG, et al. Endogenous nitric oxide is present in the exhaled air of rabbits, guinea pigs and humans. Biochem Biophys Res Commun. 1991;181:852-7.
Alving K, Weitzberg E, Lundberg JM. Increased amount of nitric oxide in exhaled air of asthmatics. Eur Respir J. 1993;6:1368-70.
Taylor DR. Nitric oxide as a clinical guide for asthma management. J Allergy Clin Immunol. 2006;117:259-63.
Dweik RA, Boggs PB, Erzurum SC, et al. An official ATS clinical practice guideline: interpretation of exhaled nitric oxide levels (FeNO) for clinical applications. Am J Respir Crit Care Med. 2011;184:602-15.
Sullivan SD, Rasouliyan L, Russo PA, Kamath T, Chipps BE; TENOR Study Group. Extent, patterns, and burden of uncontrolled disease in severe or difficult-to-treat asthma. Allergy. 2007;62:126-33.
Berg J, Lindgren P. Economic evaluation of FE(NO) measurement in diagnosis and 1-year management of asthma in Germany. Respir Med. 2008;102:219-31.
Price D, Berg J, Lindgren P. An economic evaluation of NIOX MINO airway inflammation monitor in the United Kingdom. Allergy. 2009;64:431-8.