Two is Better Than One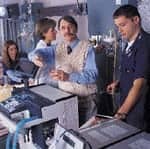 Children's Healthcare of Atlanta at Egleston.
A merger between Scottish Rite and Egleston hospitals has enabled Children's Healthcare of Atlanta to double its care through research, asthma protocols, and specialized care.
Respiratory problems such as asthma and sleep apnea are common childhood conditions, but the treatment is not common and requires specialized knowledge of physiology and psychology. Fortunately for the children of Atlanta, Children's Healthcare of Atlanta provides specialized respiratory treatment, which presents challenges to its respiratory staff. "Kids just want to play," says Debi Cooper, BBA, RRT, operations manager of pulmonary services at Children's Healthcare of Atlanta Scottish Rite. "They want you to do whatever it takes so they can play. They do not wallow in self-pity, which makes it hard to take care of them. Children don't tell you when they're sick while adults will tell you that they feel bad, worse, or they're having trouble breathing. A child will play even when they're having a hard time until they literally can't move."
Beginning in 1998 with the merger of the 195-bed Scottish Rite and 206-bed Egleston hospitals, Children's Healthcare of Atlanta cares for children from birth to 21 years of age. The majority of patients are in the birth to 10-year-old range. Combined, the two campuses care for more than 18,000 patients per year. At Egleston, there are about 98 respiratory therapists, and at Scottish Rite there are 108. The therapists are stationed throughout the hospitals' units from the emergency department (ED) to the pediatric intensive care unit (PICU) to the neonatal ICU (NICU) to the cardiac ICUs to the medical-surgical floors. Though each campus takes care of an array of children's respiratory problems, Scottish Rite follows a community hospital model with most of its patients requiring more basic care, while the Egleston campus follows a university model and takes care of patients of higher acuity.
The mission of the health system is reflected in the way its staff delivers care. "The mission of Children's is multiple. It's not just service—that's the centerpiece—it also lists teaching and research and has an advocacy for children as well," says Gerald Teague, MD, medical director of Respiratory Care Services at Children's Healthcare of Atlanta at Egleston. "My work cuts across all four areas. I'm a teacher and I'm teaching residents. As a researcher, many of the patients that would be referred to me via Egleston would be in all my research protocols. I do a lot of air pollution advocacy work here in Atlanta and it turns out to be Egleston's interest. I feel aligned with the big picture of where they want to go with the organization."
Asthma Protocol
At both campuses, complications related to asthma are among the top reasons children are admitted to and treated at the facility. According to its latest statistics, Children's Healthcare of Atlanta treats more than 900 cases of asthma per year in both its inpatient and outpatient programs. Many of the children begin their sojourn in the ED where they benefit from the aggressive treatment standard at both campuses. "We give them continuous treatments the minute they hit the door in the ED, then we'll go to the intermittent patients," Cooper says. If children must be admitted to either hospital, they will not stay long. Because of the asthma protocol, most admissions take less than 2 days, which are well below the national average.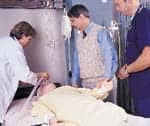 Gary Freed, DO, educates an asthmatic pediatric patient.
The therapist-driven protocol has been a win-win situation for staff and patients. "The protocol serves a number of purposes," says Peter Scott, MD, medical director of the respiratory care department at Scottish Rite. "In my opinion, it has boosted morale in the department because it recognizes that therapists have special training that allows them to assess patients and make decisions based on those assessments. It's better patient care [and] it makes a lot of sense in terms of resource utilization. A relatively minor change in how we deal with a common disease operationally can make a big difference on several different levels."
Parents are a key element when treating asthma and other respiratory-related problems. "We try to include [the parents] from the very beginning because we believe there is nothing as scary as bringing children to the hospital," Cooper says. "We want to remove that fear and include parents in the decision making."
The goal of the protocol is not just to treat children with an asthma attack, but to educate them and their parents about how to avoid a recurrence or the warning signs of future attacks.
As a way to meet this goal, Children's Healthcare of Atlanta instituted its Asthma Center for Education (ACE). As part of their treatment, children and their parents attend classes at the hospital, which offer individualized treatment plans for patients. "It's an overview, but at the same time it's one-on-one because each parent gets an individualized plan on how to take care of their child at home," Cooper says. "At what point do you give treatments when patients are doing well? When do you increase the treatment when they're having difficulty? When do RTs call the doctor? and when do you come back to the hospital?" ACE is not confined to the hospital campuses. If problems persist, an asthma educator will go to the patient's home.
Treating asthma in children is different partly because of the education component. "Most child patients are just learning that they have asthma while adult patients either have had the condition for a long time or are moving from asthma to other disease processes," says John Scuderi, RRT, MHA, manager of the Pulmonology Resource Center, Cystic Fibrosis (CF) Center, and Electroencephalogic Services. "An emphasis on detecting and preventing asthma, and educating patients about the disease, is heightened when treating children."
Specialized Care
Although its largest respiratory patient population are asthmatics, Children's Healthcare of Atlanta also treats less common conditions such as cystic fibrosis (CF). The Egleston campus has a CF population of about 400 and the Scottish Rite campus has 111 patients. The population at Egleston is unusual because it includes adults as well as adolescents. "There is a very special reason for that," Scuderi says. "Just in the past 5 to 8 years, CF has been recognized as an adult disease. Many patients have been followed since birth by their pediatric physician. And Children's recognized this bond, relationship, and continuity of care." The 10-bed center was established in 1995 and offers both inpatient and outpatient services.

Gerald Teague, MD, Gary Freed, DO, John Scuderi, RRT, MHA, and Peter Scott, MD
The respiratory department does more than just treat asthma and CF patients. "As pulmonologists, we take care of many chronically ill kids," Scott says. "That's most of what we do. Can we get involved with acute care, such as asthmatics? Of course. But under the surface of all that is a chronic illness. So a lot of what we do is chronic care. We have a full-service pediatric care unit and a NICU. In addition, Egleston is in the process of developing a technology-dependent chronic care unit. It's part of the ICU and it houses patients who are recovering from acute illnesses or, more likely, more chronically ill children, patients with cerebral palsy and tracheostomy tubes."
Working with these chronically ill children requires a different mind-set. "With most of our therapies, we try to make games out of them," Cooper says. "We'll put videos on the television, play games, and color together while patients are being treated. When you give the patient a little treatment, you give mommy a little treatment, so it's more fun for the kids. You do have to possess an understanding of age and growth development to treat each age group at their level." Treatments may include balloons and bubbles for the younger children, who will then graduate to more adult techniques as they get older and understand their condition better.
Respiratory therapists are now involved in every treatment area of both campuses either as permanent fixtures or as adjuncts to normal care. This is a change that was made only a few years ago, Scott says. "When I came here, I was recruited partly to lend some of my pulmonary expertise to the ICU, and I spent most of my day there. Now it's just the opposite," he says. "There's so much to do in terms of general pulmonary care. Now it's across the board, which is a huge advance."
Teague attributes this shift from the ICU to two factors: more complex conditions are being treated on the general floors, and the impact of the respiratory syncytial virus (RSV) vaccine.
Apnea Center and Sleep Laboratory
One of Children's Healthcare of Atlanta's unique programs is its Apnea Center, which serves the entire state of Georgia and was founded in 1996. This center is equipped with at-home monitors where information can be transmitted to Egleston via telephone modem. Most of the 900 patients are infants who either were born prematurely or have had a significant life event that has put them at risk. A small group—about 3%—are siblings of sudden infant death syndrome (SIDS) victims. Patients are referred to the program by neonatologists or by pediatricians.
The center is staffed 24 hours a day, 7 days a week, by six apnea case managers who are either registered nurses or respiratory therapists. The staff downloads monitor data nightly and sends a report to the child's physician. Treatment depends on the diagnosis, but the goal is the same. "The original goal was to get the children off the monitors," says Gary Freed, DO, medical director of the Sleep Laboratory and of the Apnea Center. "When we started the program—according to Medicaid in Georgia—the average time that children were monitored was 9 1/2 months. We've cut it down so the amount of time is now approximately 3 months."
While the child is on the monitor, there is a different goal. "The parents can download to us directly—so if a child is having a bad alarm or numerous alarms at 2 or 3 o'clock in the morning, then they can call us directly and we can say in a matter of minutes, 'Yes, that was real, go to the hospital' or 'No, that wasn't real, it was just a loose belt,'" Freed says. "We've dramatically cut down the number of ED visits, and if they go there, the ED downloads information to us and we can prevent unnecessary admissions."
The program is not just a matter of convenience for parents and good use of resources for the hospitals. "I know Dr Freed has literally saved babies' lives," Teague says. "He's picked up severe reflux and obstructive changes just over the phone."
In addition to the Apnea Center, there is a four-room sleep laboratory at the Egleston campus as well. The laboratory averages about 60 studies per month and evaluates patients from birth to 21 years old who are falling asleep during the day, snore, or are having other sleep-related problems. Currently, the laboratory is only evaluating patients, not treating them.
Because of its close association with nearby Emory University—Teague, Freed, and many of their colleagues are on the faculty at the school—research is another area that continuously opens the door to new services and treatments.
Current research includes a National Institutes of Health study to determine how severe asthma differs from moderate to light forms of the disease and an indoor real-time pollution study, which "allows us to get incredible precision in terms of the pulmonary response to changes in air quality," Teague says.
The benefits of Children's Healthcare of Atlanta are not only for the children and their families. "I think every therapist here and at Egleston could share a story where their life truly changed from the impact of a child," Cooper says. "These children are giving, they get better, and are so unselfish it's incredible. I've had two patients who have changed how I look at life. It was a phenomenal experience."
Chris Wolski is associate editor of RT Magazine.